Over the last couple of weeks we have seen an outpouring of support across the globe for the #BlackLivesMatter movement. And rightly so. The legacy of systemic and institutional racism still continues to affect people in Wales today.
We recognise that this is an issue that affects not only our members of staff and NHS workers across Wales, but also our services users whose reliance on us has increased at this most challenging of times.
Shamala Govindasamy, the BAME Network Lead for Public Health Wales, said, "BAME people continue to fight every day against racism, and heal from the effects it has had on their lives. Great allies can support them, and help dismantle the ways in which our institutions and culture are deeply rooted in oppression. Being an ally doesn't necessarily mean you fully understand what it feels like to be oppressed – it means you are taking on the struggle as your own."
Huw George, Executive BAME ally, said: "It's always been important to take a stand with our BAME friends, family and colleagues, and stand beside them in the fight against racism and inequality. And it's as important now as it's ever been—especially in light of the pandemic—to find safe and constructive ways to do this.
"As an organisation we are committed to diversity, inclusion and making sure that everyone feels welcome, and can be themselves without fear of discrimination. And whilst we have made clear committments through our Equality Strategy, we still have work to do to turn our aspirations into reality. "
Advice for mass gatherings
Although Public Health Wales strongly supports the Black Lives Matter movement, the public health advice is that people should stick to Welsh Government social distancing rules, and avoid mass gatherings of any kind.
We know that BAME groups are at greater risk from coronavirus, which has a disproportionate effect on BAME communities. Public Health Wales would advise people to support the Black Lives Matter movement via online protests, petitions, or by joining organisations online.
More on our commitment to equality.
To improve the experience for both staff and service users, and to promote and embed race equality and equity into our work, we have set out a clear guide to how we hope to achieve this as part of our strategic goal.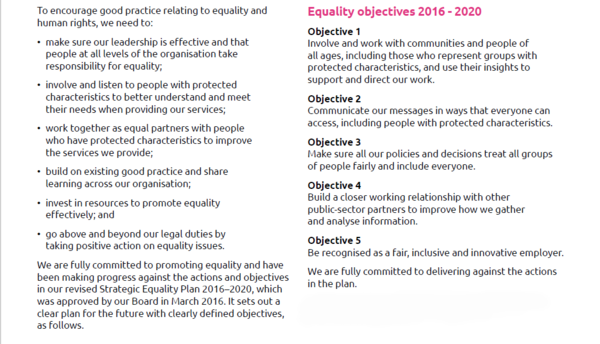 You can access the full report here:
We continue to work closely with our BAME network which launched in July 2019 and aims to improve staff experiences at Public Health Wales for those from diverse non-White ethnic or minority religious groups. The Network aims to meet quarterly providing staff an opportunity to meet, talk informally and raise any issues, with the opportunity to bring about positive, organisational change. They also work with our equalities lead Sarah Morgan to monitor the progress being made with our equality objectives and ensure we are working with the right partners to achieve them.
Sarah Morgan, Diversity and Inclusion manager at PHW said: "We have been working to boost our efforts in suporting BAME members of staff and improving access to services for BAME people across Wales.'
'We're making progress in areas like mental health services, better cultural competency and awareness training for staff, collaborating with partners like Diverse Cymru to develop inclusion toolkits and addressing the diversity of our staff at all levels.'
'We still have a long way to go and especially during these most difficult of times with the dual stressors of COVID-19 and the intense coverage of the Black Lives Matter movement in the news; we are working closer than ever before with partners across Wales to ensure communties feel supported and can access the important information they need."
Further Resources
We have collated a number of resources from our own work, collaborating partners and other organisations that provide support and guidance for those from a Black, Asian or Minority Ethnic groups and those looking to be better allies.
Partners and Organisations
Our Support Tools