Dental Public Health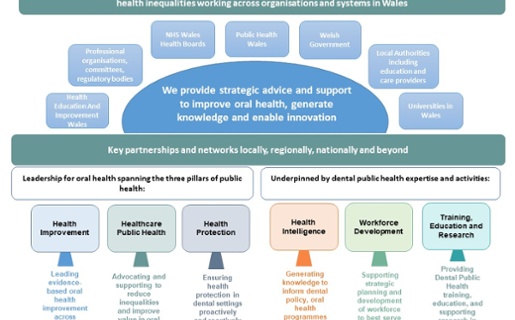 Overview of Dental Public Health in Wales
The Dental Public Health Team in Public Health Wales provides system leadership and works across sectors with multiple stakeholders who can make an impact on the oral health of the Welsh population. We work with internal and external partners to co-create shared vision on oral health improvement of the population of Wales. Our key external partners include Health Boards, Welsh Government, Health Improvement and Education Wales, NHS Wales Shared Services Partnership, Digital Health and Care Wales, Healthcare Inspectorate Wales, universities, dental services in Wales and UK wide organisations working on oral health agendas.
The Dental Public Health Team:
Provides specialist dental public heath advice and leadership on oral health improvement including reduction in oral health inequalities

Provides advice and support or influences national policies related to oral health and dental services in Wales

Advises and supports strategic dental services planning at national, regional and local level

Advises and assists the implementation of local and national oral health action plans

Provides strategic leadership for national oral health improvement programmes

Assesses oral health status and the needs of the population

Leads the national dental epidemiology programme in Wales

Advises the Welsh Government, health boards and other stakeholders on improvement of dental quality and safety system in Wales

Supports stakeholders to integrate quality improvement into dental services delivery

Advises and supports health protection issues related to dentistry

Supports or commissions dental public health research and evaluation projects

Provides training in the Specialty of Dental Public Health
About the All Wales Dental Public Health Team
The All Wales Dental Public Health Team consists of Consultants in Dental Public Health, a Specialist Trainee, a Dental Public Health Practitioner an Information Analyst, a Business Manager and Project Support Officers. The team works closely with academic colleagues at the Welsh Universities, especially Cardiff University.
Contact us
dentalpublichealth@wales.nhs.uk
Last updated: 15 October 2021
Data published before 2019 can be found on our archived site: Oral Health Data and Information