Welsh athlete with cystic fibrosis gets his flu vaccine ahead of embarking on his latest gruelling challenge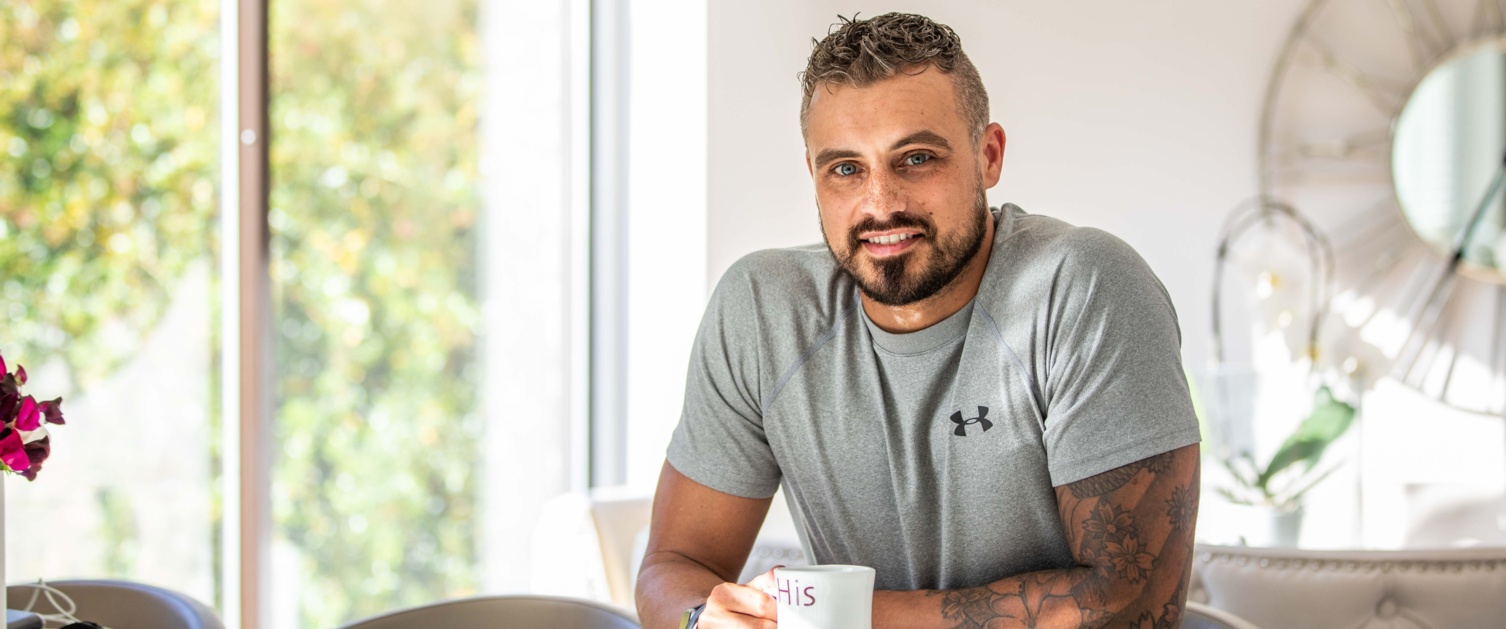 Athlete and world record holder from Cardiff, Josh Llewelyn-Jones, has cystic fibrosis and was told growing up he probably wouldn't reach the age of 30. Now – at the age of 32 – he is about to undertake his latest 'humanly impossible' challenge, but not before first having his flu vaccine – which he makes sure he gets every year.
As somebody with a long-term health condition, Josh knows he is vulnerable to infections. At high risk of complications from flu, he needs his annual vaccine to best protect himself.
It's already been a busy year for Josh. In June 2019, he was awarded an OBE by The Queen for 'Services to Cystic Fibrosis Awareness' – and on 7th October, he'll kick off his latest challenge and swim 21 miles – the equivalent of the English Channel – in a pool in Dover, before cycling 200 miles to Twickenham and then running 160 miles home to Cardiff. All in just five days.
With the long hours of training he's putting in, the last thing Josh wants is to become unwell. So, one week before setting off he's attending his local GP surgery for his free flu vaccine, launching this year's annual campaign (Tuesday 1st October).
The Beat Flu campaign is an NHS Wales campaign led by Public Health Wales and encourages people at highest risk of becoming ill if they catch flu to get protection each year against it.
Josh says, "I have cystic fibrosis, so catching flu could be really serious for me, it could lead to complications like pneumonia. It's really scary that something that circulates every year and is often dismissed as a bad cold could make me seriously ill.
"Since the viruses that spread and make people ill change often, I know it's important to get my flu vaccine every year. I'd rather get my vaccine than go through weeks of serious illness and it's not just for me, it also helps stop me spreading flu to others around me!
Annual flu vaccination is the best protection against catching or spreading flu and people across Wales with long-term health conditions, like Josh, can get their annual flu vaccine for free, along with pregnant women, children aged 2 to 10, those aged 65 and over, unpaid carers and care home residents. It is also free for community first responders and volunteers providing planned emergency first aid at organised public events.
Children aged two and three (on 31 August 2019) and primary school children from reception to school year six will be offered the vaccine in the form of a nasal spray. Children from the age of two with a long-term health condition can also get a free flu nasal spray.
Staff working in adult residential care homes, nursing homes, and in children's hospices with regular client contact are also eligible for a free flu vaccination at their community pharmacy. This is to help better protect residents and reduce the spread of flu.
Frontline health and social care workers are also recommended to have the vaccine to protect themselves and those they care for.
Chief Medical Officer for Wales, Dr Frank Atherton, who will also be at the Beat Flu launch today at Cowbridge and Vale Medical Practice, says, "Flu can be life-threatening for some people because it spreads very easily. Annual flu vaccination is the single best way to protect yourself and others against this potentially life-threatening illness."
More individuals in at-risk and recommended groups got their flu vaccine last season than ever before; an estimated 868,688 people were vaccinated. This includes almost 7 in 10 people aged 65 and over, and almost 6 in 10 NHS Wales frontline staff.
"There were 62 outbreaks of flu in Wales during the 2018-19 season," says Dr Richard Roberts, Head of the Vaccine Preventable Disease Programme at Public Health Wales, "and if you fall into any of the 'at risk' categories, you are vulnerable and more likely to get complications if you catch it, so even if you feel healthy, you should have your annual flu vaccine now.
"When people get flu, they tend to become ill quite quickly and symptoms can include fever, chills, headaches and aching muscles, often with a cough and sore throat. Some can have it without even realising and they can still spread it to others, sometimes with devastating effects."
Flu spreads via droplets sprayed into the air when an infected person coughs or sneezes. Direct contact with contaminated hands or surfaces can also spread infection. Flu can spread rapidly, especially in closed environments like care homes, hospitals, and schools.
While most NHS flu vaccines are given in GP surgeries, primary school children will get their vaccine in school, and most NHS Wales workers will get their vaccine at their workplace. It is also available for adults eligible due to a health condition or because they are aged 65 or over, in many community pharmacies across Wales.
People who think they may be suffering from flu can use the free NHS Direct Wales tool to check their symptoms. For more information about who is eligible for a free flu vaccine visit www.beatflu.org.