Primary and Community Care have an important role in obesity prevention and weight management
Published: 10 November 2021
Two new reports published today by Public Health Wales' Primary Care Division highlight how primary and community care can support obesity prevention and weight management in Wales, and the support that the workforce needs to fulfil this important role.
Obesity is a significant and growing public health issue in Wales, and the pandemic has further highlighted the increased risks of adverse outcomes for people living with obesity. In 2020, it was reported that 61 per cent of adults in Wales were classified as overweight or obese.
Zoe Wallace, Director of Primary Care "The Primary Care Division began working on these reports to develop understanding of the role of primary and community care in supporting obesity prevention. This work is aligned with the objectives of the Healthy Weight Healthy Wales Strategy 2019 and is intended to support the All Wales Weight Management Pathway 2021."
The first report looks at the primary care needs of people living with overweight or obesity in Wales. This healthcare needs assessment (HCNA) of working age adults (18-64 years old) in Wales who are living with overweight or obesity, describes:
The epidemiology of overweight and obesity in Wales;
The policy context and strategic priorities;
The perspectives of people living with overweight and obesity;
Person-centred approaches;
The role of primary and community care in Wales;
Challenges and assets.
Research has identified that the management of obesity should be informed by the evidence-based principles of chronic disease management. This must validate the lived experience of individuals, moving beyond simplistic approaches of advice to "eat less, move more", and instead to address the root drivers of obesity, and involve co-producing treatment goals.
People living with overweight or obesity see primary care professionals as gatekeepers, leaders, enablers and partners in weight management, and feel that professionals should be comfortable in raising weight in consultations, with care plans which meet their needs in a holistic way.
The HCNA has identified eight 'direct' and three 'enabling' recommendations.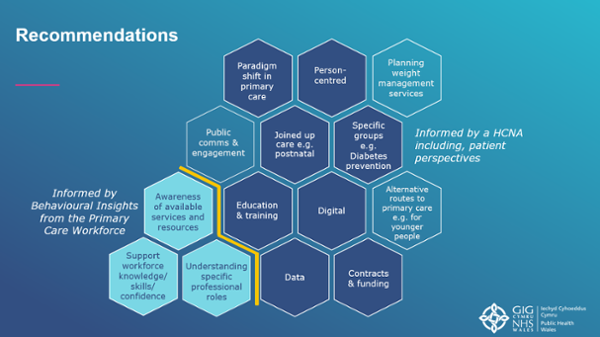 The second study examined behavioural insights from the primary care workforce on supporting weight management.
Undertaken between 26th May and 1st July 2021, the behavioural insight study used mixed methods (an online survey and virtual focus groups) to understand primary care professionals' perspectives on their knowledge, skills and confidence to support weight and weight management, as well as, to identify barriers and enablers to having weight management conversations.
Findings highlighted potential conflicts in primary and community care professionals' understanding of the wider determinants of obesity, illustrated by 93.6 per cent of respondents considering obesity as a chronic condition, whilst 48.0 per cent agreed, to some extent, that obesity is a result of personal choice.
Some professionals' felt that whilst they were confident in their ability to support weight and weight management, as well as in their intentions to carry out weight management conversations, they still experience barriers that prevent these conversations taking place. Contributing factors included: signposting and availability of services, time constraints, societal stigma surrounding obesity and education and training.
The behavioural insights study has identified three further recommendations.
Dr Amrita Jesurasa, Consultant in Public Health Medicine "Thank you to everyone who participated in the behavioural insights survey and to those who have supported the development of these reports. The recommendations in these two reports demonstrate the opportunities to learn from and build on the work already done by primary and community care to support more people in Wales to have a healthier weight. A multi-agency steering group has been established to take forward these recommendations and develop an action plan to support implementation of the All Wales Weight Management Pathway 2021."
View the reports here:
In addition, a slide set to accompany the behavioural insights from the primary care workforce on supporting weight management can her viewed here - English and Welsh.
If you would like to receive the full report for each output, please do not hesitate to get in touch with the primary care team PrimaryCare.One@wales.nhs.uk