Travel to School Hands Up Survey
Travel to School Hands Up Survey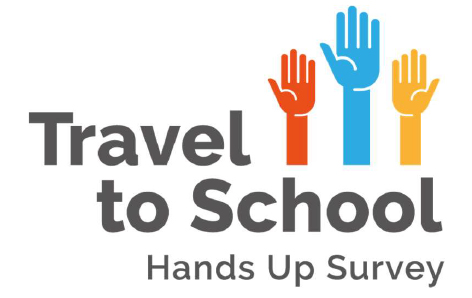 In Wales, we're looking to make active travel the natural choice for short journeys.
Active travel simply means making every day journeys, like travelling to and from school, by foot, bicycle or scooter.
Ideally children should be physically active for at least an hour a day in order to stay fit and healthy, unfortunately at present less than half of Welsh school children meet this requirement. However by using physically active modes of travel for their school commutes they can easily meet between a quarter and a third of their daily physical activity needs.
Active school travel (AST) can also help children develop self-confidence, their skills in assessing and managing risk, problem solving, social skills and can improve educational attainment.
What's more, increasing AST levels will lead to less of a reliance on cars and taxis to get to school, and will improve road safety and air quality in areas around schools.
To find out how primary school pupils currently get to school, and contribute to planning and actions to increase levels of AST, Public Health Wales has put together a new, annual, one question survey for all primary schools across Wales. The survey asks children how they normally travel to school.
How will it work
We're inviting children in years 1-6 across Wales to take part in our Travel to School Hands Up Survey during this year's survey window, which is 25th – 29th April 2022.
The survey itself is incredibly straight forward. It takes less than 10 minutes to complete, and is carried out by teachers in their classrooms. Teachers read out a list of modes of transport, and children put up their hands when they hear the mode of transport they used to arrive at school that day. Teachers then record the responses and send them to us.
Each year data collection will take place during one week. The survey will be conducted on one day only during this week, and schools are free to choose the day that best suits their schedule. Teachers will be provided with guidance and resources to support them in conducting the survey. The teachers then submit their classroom data into an online form for collation and analysis by Public Health Wales. Schools will receive a full report with their results straight away.
If you're a primary school teacher or leader, we'd welcome your support in getting your pupils to take part.
Why are we doing this?
Data sources for primary schools currently available present an inconsistent and unreliable picture in terms of the number of pupils who actively travel to school.
This survey will be the first survey of its kind to invite all schools in Wales, and will allow us to understand national levels of AST for the first time. It will be rolled out on an annual basis, to allow us to monitor AST levels on an ongoing basis.
We think schools are ideally placed to measure levels of AST and to plan for, and bring about change at a school and local area level.
The data can be used by schools and local authorities to assess the impact of any measures they have put in place to improve AST levels in pupil populations in their area.


How does the survey benefit schools?
At an individual school level, taking part in the annual survey will:
Provide an understanding of pupils' travel behaviour.
Link to national scheme requirements – including Welsh Network of Healthy School Schemes (WNHSS).
Contribute to the Health and Wellbeing Area of Learning and Experience in the new Curriculum.
Supply the information needed to inform decision-making, facilitate change, and monitor its effectiveness.
Support schools' commitment to improve pupil health, wellbeing, safety and environmental responsibility.
How will an increase in AST benefit the people of Wales?
Being physically active in this way can develop self-confidence, skills in assessing and managing risk, problem solving and social skills; and can improve educational attainment.
Not only does AST contribute to child health now, but it helps ensure children grow up to be more physically active, healthier adults.
By reducing car school run journeys, it can reduce traffic congestion and contribute to improved air quality, especially in areas close to schools.
It is acknowledged that increases in walking and cycling to school will contribute to creating a healthier Wales, and a prosperous low carbon society of safe and well-connected communities.