The 11 October marks National Coming Out Day. On this day we celebrate coming out as lesbian, gay, bisexual, trans, non-binary or queer (LGBT+).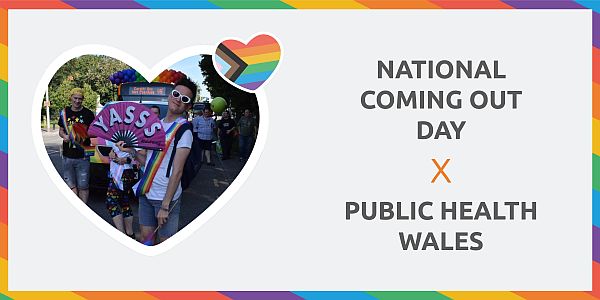 Coming out is not necessarily a one-off event – LGBT+ people may have to come out many times during their lives. It's also very individual and people may face different challenges when coming out.
To hide your sexual orientation or gender identity from other people often means lying and pretending.
People will need to think about whether hiding their sexual orientation or gender identity is more or less stressful than being open about it, as well as their safety.
Coming out can be one of the most significant and life-changing events in an LGBT+ person's life, as this is when an individual is publicly confirming their sexual orientation or gender identity. It allows you to live your life in your most true and authentic way.
Public Health Wales is proud to support our LGBT+ staff, and have signed up as a Stonewall Diversity Champion, and in January this year we came into the Stonewall Top 100 Employers for the first time.
We are committed to ensuring we have a workplace that is free of discrimination, where everyone can be themselves. We fully support all members of staff in coming out in work.
Our Enfys Network welcomes all LGBT+ Staff, and also staff who do not identify as LGBT+ as allies.
If you would like to find out more about the Enfys Network, or would be interested in signing up as an Ally to show your support, please contact Lewis Owen and Gavin Collins, Co-chairs of the Enfys Network, or visit the LGBT+ Page of our Intranet.
More Information
Raising awareness: bisexuality
Gender-neutral Language Factsheet