Test, Trace and Protect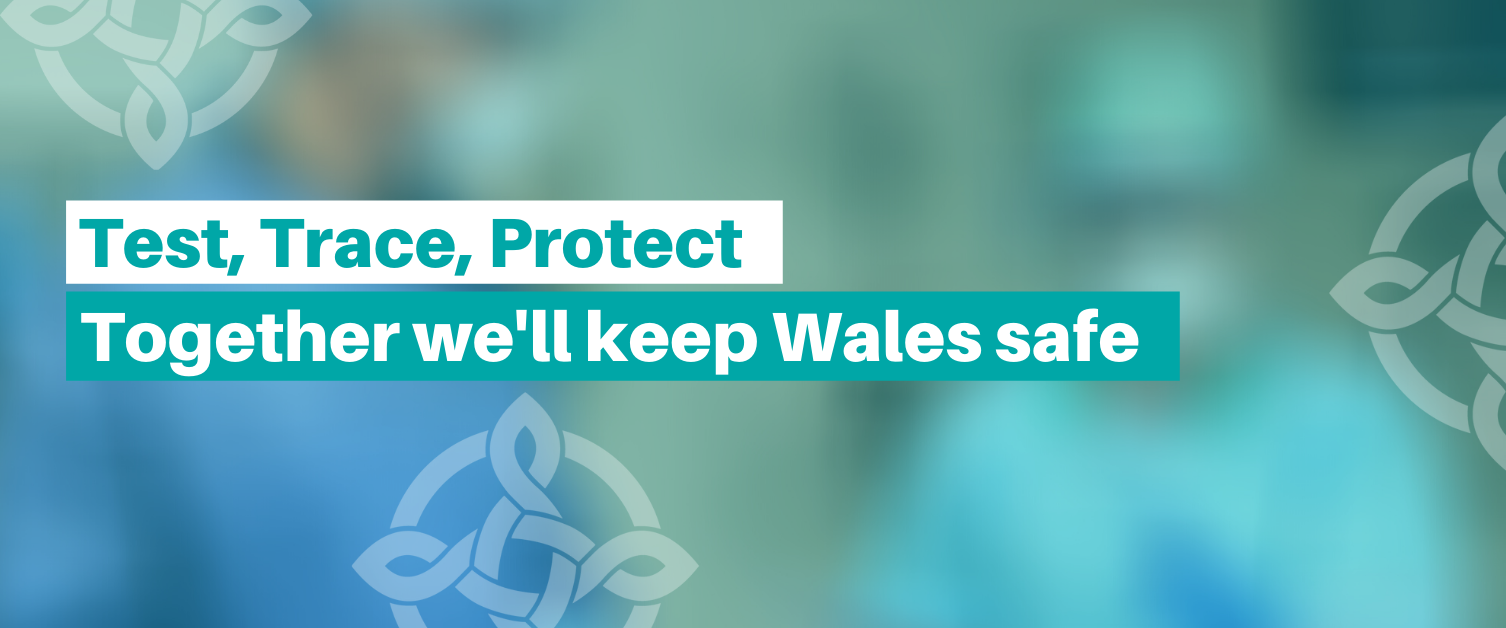 Test, Trace, and Protect Strategy
Welsh Government along with PHW, local health boards and local authorities have now implemented the Test, Trace, and Protect strategy.
Test, Trace and Protect is designed to support citizens to contribute as much as they can to protecting themselves and others, to encourage positive behaviour, and makes it easier for people to play their part in contact tracing and limit the spread of the virus, and protecting the vulnerable.
Working alongside Welsh Government, Test, Trace, Protect works by:
Identifying those who have symptoms consistent with COVID-19, enabling them to be tested while isolating from wider family, friends and their community.
Tracing those individuals who have been in close contact with the person who has tested positive on any occasion during a period beginning up to two days before they started experiencing symptoms, and requiring them to take precautions and self-isolate (for 10 days).
Providing advice and guidance, particularly where the individual who has tested positive or their contacts are vulnerable or at greater risk.
Ensuring that if the individual tests negative and the symptoms are not due to coronavirus, individuals and their contacts can get back to their normal routines as soon as possible.
Roles and Responsibilities
Individuals – following public health advice, hand washing, social distancing, reporting symptoms and self-isolating when necessary.
Welsh Government – provide strategic direction, oversight, determine priorities and provide resources to enable test, trace, protect.
Public Health Wales (PHW) – our expert National Public Health body providing leadership and specialist advice on public health approaches. Responsible for coordinating contact tracing, advising on sampling and testing, laboratory analysis of tests, health surveillance and providing expert health protection advice and analysis of the spread of the virus in our communities through a range of health surveillance indicators.
Local health boards and local authorities – providing a wealth of contact tracing experience and working in collaboration to deliver regionally coordinated local contact tracing teams – a mix of clinical and non-clinical staff who can support those who are symptomatic or have tested positive and their close contacts to stay safe. This will sit alongside their existing role to provide testing facilities and environmental and public health responses to local outbreaks and clusters or preventative action in areas regarded as high risk.
Crucially everyone in Wales needs to know and understand the symptoms to look out for and what to do if they, their family or friends develop them. Everyone has to be prepared to do what is right and protect themselves, their families and their communities through self-isolation.
Test, Trace, Protect Toolkit
A toolkit and assets has been created for employers to communicate the Test, Trace, Protect strategy. All assets direct employees to speak to their manager, book a test online or call 119 if they suspect they have COVID-19. The onus here is on the employers to understand the process to be able to inform their critical workers of how to get a test.
In this toolkit you will find:
• Printable and digital posters
• Social assets
• Digital banners
• Explainer video
• Image bank
To access this toolkit, click here.
Keeping records of staff, customers, and visitors
By maintaining records of staff, customers and visitors, and sharing these with the NHS Wales Test, Trace, Protect service when requested, you can help to identify people who may have been exposed to the virus and are asymptomatic (i.e. are not yet displaying symptoms). Containing outbreaks is crucial to reducing the spread of COVID-19, protecting the NHS in Wales and saving lives. This will support the country in returning to, and maintaining, a more normal way of life.
It's important to note that if a member of your staff or customer develops COVID-19 symptoms, then they should self-isolate immediately and apply for a free COVID-19 antigen test.
If you are operating accommodation and a customer starts displaying symptoms of COVID-19 whilst staying at your premises, then they (and anyone travelling with them) should return home as quickly as possible, if well enough to do so. They must use the most direct route, and should not use public transport. They should then self-isolate immediately and follow the self-isolation guidance. The person with symptoms should apply for a free COVID-19 antigen test, preferably at a convenient location close to their home as soon as possible.
Visitors booking a stay in Wales should consider the cost implications around developing COVID-19 symptoms before making their booking. If they travel to the accommodation using public transport, they will need to consider the requirement to organise private transport to return home if they develop symptoms. Or they must be prepared to cover the cost of extending their stay and self-isolating in the accommodation if they are not well enough to travel or cannot organise private transport home. If a visitor is unable to return home on developing symptoms, then they should order a test from their accommodation.
If a visitor, customer or member of staff tells you that they have tested positive for COVID-19, then they must follow the contact tracing guidance that will be provided directly to them by the NHS Wales Test, Trace, Protect service. The service will contact them as soon as they receive a positive test. For more information click here.
Simplified guidance explaining the test, trace and protect process for autistic people can be found here.