Andrew Goodall, Chief Executive, NHS Wales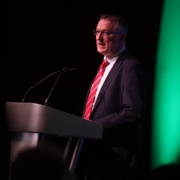 This World Patient Safety Day, our priority remains to improve healthcare for everyone in Wales. We want to continue to tackle the main causes of ill health through targeted screening and vaccination programmes and address unhealthy behaviours.
Improving the quality and safety of care provided is everyone's responsibility. Wherever and whoever delivers it: from community and primary care – GP, dental and pharmacy provision to hospital and specialist care through to social services and social care, within care homes and back to the community. We all have a role to play.
Through the Health and Social Care (Quality and Engagement) (Wales) Act, the Welsh Government we are working to ensure quality is the universal way of working across health and social care in Wales, so that the focus is firmly on improving patient outcomes.
Improving the quality of care helps improve patient safety. Where things do go wrong in the provision of care we want to be open, transparent, learn and share the lessons learnt across the NHS to reduce the risk of the same mistake being repeated.
We, at the Welsh Government, are continuing to work to ensure the safety of our patients, NHS staff and key front line workers, as we plan for a potential second wave of the coronavirus, flu and usual increased pressures as we head towards winter.