Annual influenza surveillance and influenza vaccination uptake reports
Public Health Wales monitors uptake of seasonal influenza immunisation each year.
During each influenza immunisation programme (usually October - March), uptake is summarised every week in the weekly influenza activity in Wales report. Final figures are presented each year at the end of the influenza season in an annual report, which also includes an epidemiological summary of the season.
Latest report
Seasonal influenza in Wales 2019-20
Key points from the 2019/20 report
During 2019/20 there was a shorter duration of influenza activity compared to any of the six previous flu seasons.

Middle-age to older patients were more likely to be confirmed cases of influenza in hospitals.

Influenza A(H3N2) was the dominant influenza virus this season, followed by influenza A(H1N1)pdm09, small numbers of influenza B were also detected throughout the season.

Uptake of influenza vaccine was 69.4% in those aged 65 years and older, compared to 68.3% last season and is the highest ever uptake in this group.

Uptake was 44.1% in patients younger than 65 years in one or more clinical risk groups, this is stable compared to 2018/19. Uptake among clinical risk groups was highest in patients with diabetes (58.8%) and lowest in those who were morbidly obese (34.8%).

Uptake of influenza vaccine in pregnant women was 78.5% (measured in an annual survey of women in major maternity units in January 2020) and was the highest ever uptake seen in this group.

Uptake of influenza immunisation in Health Board and NHS staff, reported by Health Board Occupational Health Departments, was 56.0% during 2019/20. Uptake in staff with direct patient contact was 58.9%, exceeding 60% in four Health Boards and two NHS Trusts.

A total of 64,085 people were immunised against influenza in community pharmacies in 2019/20, with 57% of the immunisations being given to those aged 65 year and older.

Influenza vaccination was received by more individuals in at-risk and recommended groups last season than ever before, an estimated 876,062 people were vaccinated (around 28% of the population in Wales), compared to 868,688 last season.
2019/20 report summary infographic: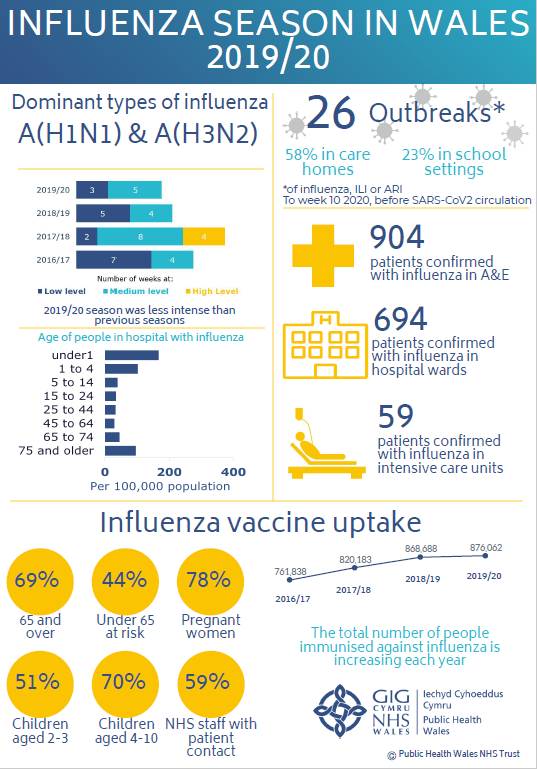 Historical reports