Thank you to all staff who have attended our flu vaccination clinics and been vaccinated.
You can see from our staff flu vaccination dashboard, that this week's numbers show we have vaccinated more than 750 staff so far.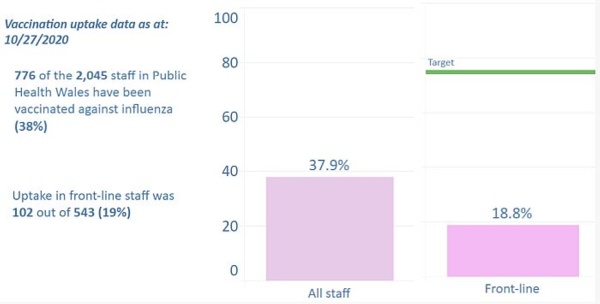 For more information on uptake, including a breakdown by directorate and division, you can view the dashboard here:
staff flu vaccination dashboard
Calling all front-line staff
While we are calling on all staff to get vaccinated and ensure the organisation is resilient this winter, it is especially important that our front-line workers protect themselves against the flu.
So far just over 100 of our front line workers – or 18% – have been vaccinated. Please ensure you access a vaccination clinic and protect yourself and others during flu and pandemic.
Targeted sessions:
We are now offering targeted sessions to ensure all staff can have equitable access flu vaccination.
Additional targeted sessions will now be offered to your teams on a strict appointment system to ensure safety and wellbeing of all staff during Covid-19
Travel time to these venues should be within working hours to ensure no staff member is disadvantaged
To arrange access to a flu clinics in your area, please contact Bev Gregory our Lead Nurse for Infection Prevention and Control: Beverley.Gregory@wales.nhs.uk