We've all had to be flexible over the last few months throughout the response to COVID-19. Here's how some of our senior leaders have been coping with juggling work and home life throughout lockdown.

"When I left the office one Wednesday in March I didn't think it would be for the last time for months! What a weird and unusual time it has been and with that managing the reality of adapting to working from home, balancing childcare and learning and of course how a pandemic makes you feel and the impact it has on your life.
My partner and I are fortunate to both be able to work from home. Our employers/line managers are both very flexible and caring and have been very supportive when it comes to the reality of our four year old son being at home for part of the week. We have managed to maintain some time at nursery, they have been fab, the rest of the week we essentially work shifts between us to manage our professional commitments, looking after our son and supporting others as best we can. Our boy has made quite an impression, often dressed arriving as Super Mario into a Skype/Teams meeting and making everybody laugh – especially when he turns around, leaves and shouts 'ciao bella!' – we will be trying to avoid that happening when we start livestreaming our Board meetings again!
I am accountable to both Tracey as our CEO and Jan, Chair of our Board – they have both been incredibly supportive and understanding of the need for flexibility – appreciating that I need some time off for parts of days to care for our son, and then working flexibly around those times. The fact they take time to ask how my family and I are makes such a powerful difference to how supported I feel.
That's not to say there hasn't been challenges, some days are a bit tougher than others, some days you wonder how to juggle everything. The rainy days are challenging when it's hard to play in the garden or exercise outside with a 4 year old!
As a Board Business Unit team, all of the team are working at home, some with similar childcare and caring responsibilities and are all managing incredibly well. We have spent lots of time talking through what it means to be working remotely, making sure we understand each other's needs and preferences for communication and so on. Working at a distance and in a fast paced environment means we have had to change how we work, how we make sure everything that needs to be done is done – we have managed to do this and thankfully our IT system has supported us to do so.
Keep smiling everyone, you are all doing a fab job. Let's all keep looking out for each other, ask colleagues how they are and support where we can. Have a good week everyone."

"I've been used to working from home one day a week for some time as part of my normal arrangement; it was my weekly slot to get through 'admin' and paperwork without disruption or time spent travelling. What it didn't used to include was home-schooling, answering 'muuuuummm' every 20 seconds and shopping for my 73 year old isolating mum! I'm lucky to be able to move some of my working day around when needed, for example starting later on a Friday so we can dive into the supermarket for the blessed NHS shopping slot at 7.30am and deliver apparently essential lemon sherbets to my Mum in Caldicot. I've also been able to put in short breaks to help set and check school work with my daughter, address wi-fi based panic and engage in what should be illegal Joe Wicks PE lessons or, if the weather is good, go for a walk. I'll do as much homework prep in the evening.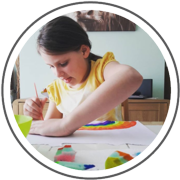 I've had the support of my manager and my team to do so, as well as the support of my small person who has, in all fairness, been really patient when I've had to get head down. Flexibility works both ways though, so I've been fine working a little later when needed or reading through papers in evenings/weekends.
It hasn't been and it isn't easy – I really miss my commute (don't tell GWR that!), it was my hour to stop being mum and start being OD Lisa and to have my earphones separate me from the rest of the world for a bit: that break doesn't really exist anymore. I feel guilty when I'm not able to spend as much time doing school work as I should (or making as elaborate craft stuff!), I kick myself for allowing more screen time than I should (acknowledging me and my laptop probably aren't the best role models). The worst bit for me is, her being an only child, my daughter not really having played with another child since the end of March. But, I also get reminded that I'm human, this situation is a bit rubbish for everyone and to be kinder to myself. We know it won't be like this all the time."

Work life balance
"Hmm. What is work life balance in lockdown?
One of the pieces of feedback I got from my team from the Wellbeing survey is a blurring of lines – staff feel like there's no off button, no time to take lunch, no time when the phone stops ringing or the emails abate. It feels like it's 'always on'.
To be honest, that's what it feels like in Communications on a regular day. So for me, working flexibly in lockdown hasn't been terribly different in that sense. But what has been different is the company I keep.
On the eve of lockdown my partner and I decided to form one household with our four children so that we could support each other. We hadn't planned on moving in together but we recognized that we'd need to rely on each other if we were to both keep working and home educate the boys.
The other week my six year old summed up these strange times for me perfectly in two words. 'It's hard,' he said. And this is true. Each of us has our own unique home situation and our own challenges to face. My partner has done 80% of the home educating, putting his work on the back burner to enable me to keep doing my job as a key worker. I am fortunate to have a partner whose support has allowed me to be flexible. I could not have led the Communications function without his help in the background.

This morning I asked my kids for some 360 feedback. They told me I'm doing a pretty good job at home education. 'You explain things really well, Mummy,' my 9 year-old says. 'Just like the teacher would.' But as a working parent, that is not how it feels every day. My emotional spectrum ranges from pride and joy at seeing their creations when I get home to deep guilt for not being the one who's done it with them. Sometimes I resent my partner for having the time with the kids that I would so desperately love. And other times I'm more realistic about the fact that my true calling is not child care.
Whilst each of us is working to understand what the future of work holds for us, one thing is for sure: working in new and flexible ways is here to stay. For some of us that means shifting hours of work, split shifts, and more Zooms and Skypes that ever before. For others it means adapting home lives and sharing the mental load differently.
So, work life balance in lockdown… For me it's about balancing my emotional state. I remind myself every day that I'm ok, my kids are ok, my partner is ok. We have meaningful employment, a beautiful home, food on the table and above all, a healthy family. I learned to give up on perfection some time ago, but I am extremely grateful for the imperfect balancing act my family and I have managed to perform.
And I am so proud of us for making it this far."
Share your own lockdown experiences through My Contribution with your manager, or through team meetings so you and your colleagues know how you're all doing!