Wales Climate Week 2022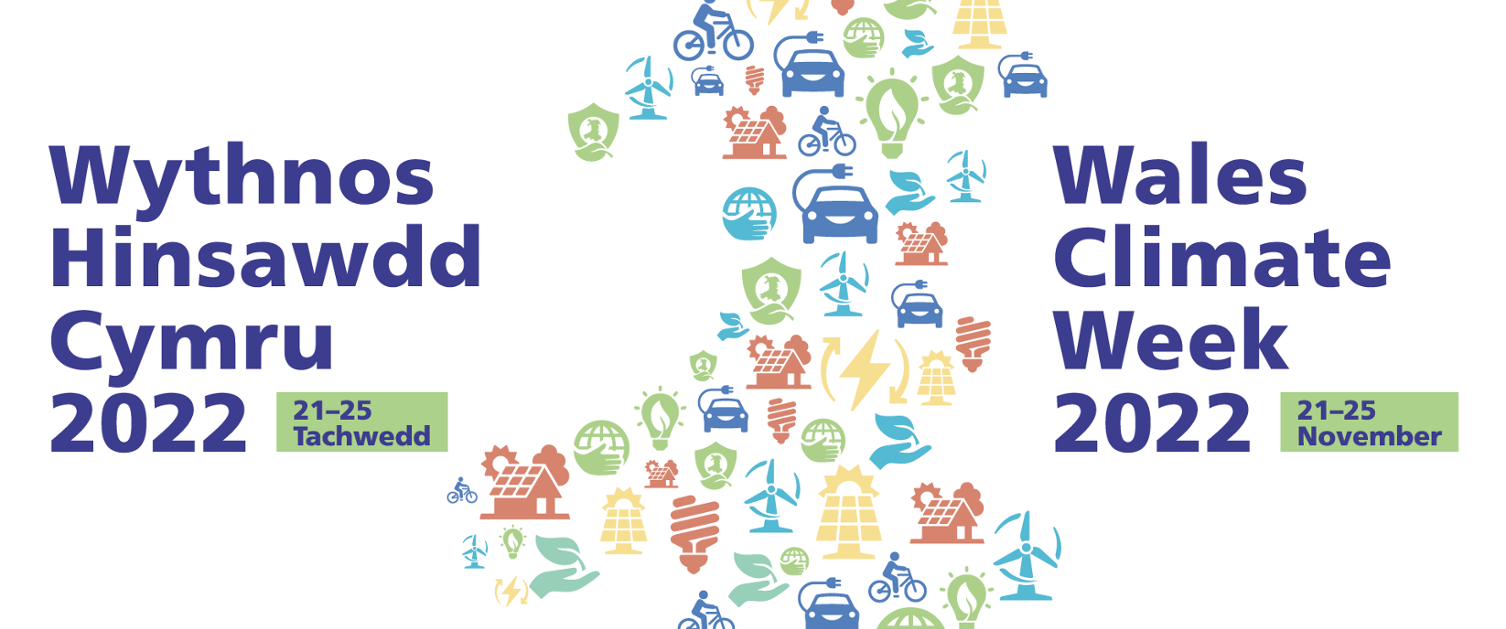 Wales Climate Week 2022
Wales Climate Week is an annual event that brings together individuals, communities, environmental groups, academics, businesses and the public sector for important conversation on climate change.
Monday 21st – Friday 25th November
Theme: Public Engagement and Action on Climate Change
This year's event will take place immediately after COP27 (the next 'Conference of the Parties' global climate summit to be held in Egypt between 7th-18th November).
The week will begin with a 2 to 3 day virtual conference, bringing Team Wales delivery organisations and trusted messengers together to discuss the role of the public (individuals) in action on climate change. The virtual conference will also focus on the challenges in tackling the continued threat of climate change alongside the cost of living crisis and how to deliver solutions to this twin challenge for households across Wales.
A new fringe events programme will also be delivered throughout the week to engage new groups in discussion on climate change. These events will link with the final stage of an open consultation on a new draft 'Strategy for Public Engagement and Action on Climate Change' to be published in the coming weeks. This new Strategy will set out how the Welsh Government and Team Wales partners will work together to engage and support the people of Wales in taking action on climate change. Funding will be available to partners with strong connections to these priority groups to support them with the organisation of local events and workshops.
Virtual Conference Programme
The aim of the 3-day virtual conference will be to bring Team Wales partners together to explore the policies and solutions needed to support the general public in taking action on climate change. Although the virtual conference will be aimed at organisations with a role to play in working with the Welsh Government on delivery of a collaborative public engagement programme, attendance will be free and open to anyone wishing to join in on the conversation (including members of the public).
Virtual conference sessions are still being planned, and will broadly cover the following topics:
International context - learning from other countries and a look at the impacts of our buying and consumption behaviour in terms of global emissions.

Cost of living and energy crisis – responding to the twin challenges of the climate and energy crises through household energy efficiency and a more rapid transition to renewable energy and greener travel behaviours.
Social justice – ensuring fairness in the delivery of decarbonisation through a deeper understanding of the impact of climate change, the actions or policies needed to mitigate it and on the wellbeing of all people.
Young people - actively listening to and engaging young people and providing them with a genuine role in shaping their future.
Climate and nature – joined up policy solutions and a multi problem solving approach to the climate and nature emergencies.
Climate adaptation – increasing understanding and creating greater resilience at an individual and community level around the risks of climate change already 'baked-in'.
Climate decarbonisation – the role of individuals and households (the general public) and conveying climate choices to achieve the pathway to net zero.
Behavioural science - the importance of behavioural science in understanding societal barriers and motivations to action.
Overcoming barriers to action – delivering infrastructure solutions at scale and pace to 'make the right thing to do the normal, easy, attractive and routine thing to do' for the public to act. (To include deep-dive sessions into sector policy areas such as energy, travel and consumption behaviours and reviewing the successes and failures of other behaviour change programmes).
Industry, science and innovation - exploring the role of science and innovation in developing affordable solutions and overcoming societal barriers to action.
Communications – the role of communications in building knowledge, conveying the co-benefits and creating social norms around climate action, including the importance of national visibility and targeted communications to reach different different audience groups and leveraging influencers and appropriate messengers.
Arts, Culture and Creative Industries - the powerful role of the arts, culture and creative industries in engaging society in climate action.
Collaboration - building on our Team Wales approach and leverage upstream solutions.
Exemplifying positive action from Government and business – the importance of the public sector and businesses leading by example as vital to people not feeling they are tackling the climate change alone.
Local solutions - exploring local level action already being undertaken to tackle climate change and opportunities to amplify this at a regional and national level.
Using resources in the most effective way – a focus on co-development and co-delivery, working as Team Wales to deliver a collaborative public engagement programme.
Measuring success – exploring how the actions of individuals link clearly to Wales' decarbonisation pathway, so that people understand the impact of their actions on climate change.
If you are interested in hosting or participating in a session on any of the above topics, or have other proposals to host a session as part of the virtual conference programme, please complete our application form here. Any queries associated with completing the form should be submitted by email to walesclimateweek@freshwater.co.uk.
Register for Wales Climate Week 2022