Fluoride Varnish
Fluoride Varnish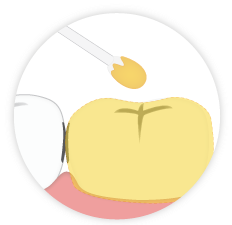 Fluoride varnish can be applied by dental teams at your family dental practice and at some nurseries and schools.
Fluoride varnish is a golden gel that is applied to a dried tooth surface. It has a pleasant taste and a fruity smell. It helps to prevent tooth decay by strengthening the teeth, and has shown to be most effective if applied to the teeth at least twice a year.
The varnish hardens on the tooth just after being applied, so the fluoride can be in contact with the outer surface of the teeth for a long period of time. The golden colour can take a few days to fade.
How is the fluoride varnish put onto the tooth?
The process is quick and easy
In nurseries and schools, the varnish will either be applied within a visiting dental mobile unit or the dental team can bring their special portable equipment into a quiet, private area of school.
Only specially trained dental staff can apply the fluoride varnish. They have strict rules of hygiene and infection control. A clean pair of clinical gloves is worn and a new fluoride application pack is used for each child. The child's teeth are gently wiped with a cotton wool roll and the correct amount of fluoride varnish is applied using a small disposable soft brush.
Aftercare Instructions
Try not to let your child eat hard foods such as apples, carrots or crisps today to avoid the varnish being scraped off the tooth surfaces.
We will arrange to paint your child's teeth with the fluoride varnish again, at school, in about 6 months time.
If your child has problems or an allergic reaction after today's application, please inform the school or Designed to Smile team.
Your child has not had a detailed examination. It is important that your child attends a dental practice regularly for check ups and let your own dentist know that your child has had fluoride varnish applied at school.