Section 2 - Parent Story
Carli Newell lost her 11-year-old son Zac Thompson in summer 2022.
Carli said:
"As a 36-year-old mother of two boys, I have resided in Pembrokeshire, West Wales, my entire life and currently hold the position of a journalist for a local newspaper.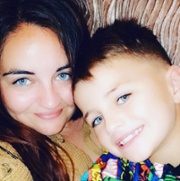 "On the evening of 1st July 2022, Zac, along with his elder brother, cousin, and another local boy, were playing at the football field in Angle. Upon walking their friend home, who resides adjacent to the beach, the boys decided to perch upon the rocks and observe the sunset. With no intention of entering the water, they neglected to inform anyone before venturing to the beach.
"Shortly after 9pm, an unexpected wave forcefully swept Zac, his brother, and cousin into the water. Fortunately, his brother and cousin managed to clamber onto nearby rocks. Sensing Zac's struggle, his elder brother advised the cousin to run to the beach and seek assistance.
"Without hesitation, his brother plunged back into the water, swimming towards Zac and instructing him to grasp his foot. Together, they swam towards the rocks until, just as his brother reached for a rock, another powerful wave separated them, dragging Zac farther out into the water where he became trapped in a whirlpool.
"Despite the combined efforts of numerous medical professionals, members of the public and a significant presence of emergency services, Zac never regained consciousness and succumbed to his injuries in the hospital on 2nd July.
"Zac's tragic and abrupt passing has inflicted indescribable devastation upon our family, tearing the very core of those who knew and loved him. Following news of Zac's passing, the entire community was consumed by grief. A year on, the impact of Zac's death is still palpable within our community.
"However, a charity has been established in his honour called Forever 11, which is dedicated to imparting water safety awareness to children and young individuals. Zac remains affectionately remembered by all who knew him, with several memorial matches held in the sports he adored, a tradition that will endure for years to come.
"Zac possessed an infectious personality; funny, cheeky, intelligent, kind, and extremely courageous. Despite his small stature, he emanated a larger-than-life aura, drawing people towards him.
"In a nation blessed with fantastic beaches, bays, harbours, lagoons and inland waters, the significance of water safety and education regarding appropriate actions during emergencies cannot be overstated.
"The latest statistics concerning accidental drownings in Wales paint a bleak picture, particularly for children and young individuals, especially boys. It is heart-wrenching to witness the number of water-related fatalities in children and young people in Wales in recent years.
"Clearly, more can be done to decrease these rates and safeguard our children as they revel in and respect the water.
"I support this report and urge everyone to read its evidence carefully and consider what more they can do to help children and young people enjoy the water safely."